As part of his visit to the Saint Omer region, we were delighted to welcome Mr Håkan ÅKESSON, the Swedish Ambassador in France, accompanied by Mr Jean-Luc Montois, the Honorary Consul of Sweden, and Alexandra Kumlin, who is in charge of promoting Sweden and Franco-Swedish cooperation.
Guided by Gwenaelle L'Hénoret and Jean-Sebastien Bes de Berc, they were able to discover our production site in Arques (Hauts de France), our collections and meet our passionate glassmakers.
Our 4 brands are present in Sweden, and particularly Chef&Sommelier, which is represented on the 2 distribution channels, Consumer Goods and Hotels & Restaurants.
Our expertise and the French art of living have shone through there for many years.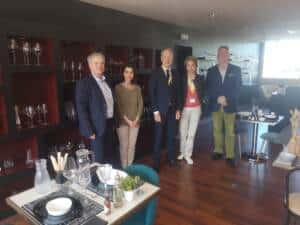 Published on