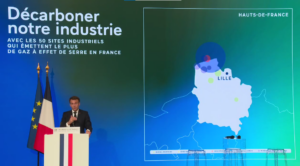 "Intensify and accelerate the ecological transition of French industrial facilities to make them more competitive and greener".
These were the words of Emmanuel Macron, President of France  at the meeting on 8 November organised at the Elysée Palace bringing together the heads of the 50 industrial sites emitting the most greenhouse gases in France.
Arc, represented at this meeting by Nick Hodler, its CEO, is aware of its impact on the environment.
For many years, the Arc Group, world leader in tableware, has been committed to reducing its environmental impact. The development of new, more sustainable materials, the creation of product ranges adapted to new consumption patterns, and the recycling of production waste are the most emblematic examples.
In 2020, the Arc Group took an important step forward in this approach by launching the Arc Responsible programme, which aims to reduce its CO2 emissions by 37% by 2030 at its French site, employing 5,000 people.
Find out more here: